Rate this article and enter to win
Moving much? Ninety percent of students say physical activity makes their life better (two-thirds said much better), according to a recent Student Health 101 survey. Consistent physical activity means more energy, better mood, and less stress. But research shows that many of us struggle to be active through life transitions—like pursuing an advanced degree or transferring from another school.
Good news: Students who believe they can make it happen are more likely to be active, according to a 2015 study in the Journal of American College Health. How can you build faith in your own intentions and goals? Behavioral research shows us: Incorporate what works for you, keep your goals realistic, and create a specific plan that anticipates likely obstacles.
Student Health 101 joined up with Bette Vargas, a college fitness trainer, to guide three students through this process. To see their strategies and plan in full, click on their images. In half an hour, you can make your own fitness plan and set yourself up for a dynamic, low-stress semester.
| | |
| --- | --- |
| | Bette Vargas is a certified personal trainer at the University of California, San Francisco. |
We all want to stay active—what hurts and helps?
You know the value of planning your physical activity
In our summer survey, two out of five returning students said they had already planned their fall fitness schedule. Close to that number of students were actively planning it. Most of the rest said they hoped to be physically active through the fall semester, but hadn't yet figured out what that would look like.
Why planning is important
For many students, being a student comes with a drop-off in physical activity, research shows. That's the biggest reason why some students struggle to maintain their fitness and manage their weight through school, according to a 2016 study in BMC Public Health.
What gets in the way?
With so many demands on students, physical activity tends to fall off their to-do list, says a 2015 study in the Journal of American College Health. In our survey, two out of five respondents said aspects of student life (most frequently, assignments and tiredness) make it difficult for them to be as physically active as they'd like.
What helps?
On the other hand, almost half the survey respondents said access to fitness resources (such as the school or local rec. center) make physical activity easier. Peer influences are also helpful, students said. This aligns with the research. The physical activity habits of college women tend to carry over to mid-life, and the "supportive social atmosphere" of school fitness programs is likely a key factor in setting students up for long-term success, according to the Journal of Exercise Physiology (2009).
Source: Student Health 101 survey, May 2016; 1,500 responses. This survey is not representative of students nationally.
"Being active feels awesome, but weight gain messed with my motivation"
Meghan R.
Second-year student
Wake Technical Community College, North Carolina
"Exercise makes me feel awesome and productive afterwards. I do yoga in the mornings to relax and get ready for the school day. I enjoy walking outside or doing circuit weights at my apartment gym. That said, there was a point in my life when I started gaining weight, and it was hard to re-motivate myself to stay active."
My strategies
Write motivational notes
Work out early
Set reminders
Bette Vargas
"If your goal is Specific, Measurable, Attainable, Reasonable, and Time-bound (SMART), it can be achieved. Meghan's positive attitude gives her the strength to be successful. Remember, though, that being active isn't an all-or-nothing deal. It's OK if you can't do as much as you feel you should—just do something. Research shows we feel better about our bodies when we're active regardless of whether our bodies change."
How I'm going to rock it
Here's what works for me:
Write myself motivational notes "I'll leave notes in my phone reminding myself that exercise will benefit me in the long run—no ifs, ands, or buts."
Work out early "The earlier the better, and one less thing to deal with later."
Set reminders "I'll set an alarm on my phone as a reminder, and sometimes my mom will text me to get going."
So here's how I'll get moving:
I plan to exercise every day during the week and one day on the weekend, with one break day.
My classes run 10 a.m.–4 p.m., so I'll get up around 6 a.m. to get active in the morning. I'll start with 20 minutes of yoga.
I'm determined to walk for 4–6 miles outdoors in the evenings. If the weather is bad, I'll use the treadmill at my apartment gym.
Two days of the week, I'll reserve for strength training.
"I believe that anyone can make the time to exercise by pushing themselves.I know six days a week of exercise is a lot, but if you believe in yourself and create the time to make it happen, it will."
ALERT! Motivation tip: Focusing on the immediate benefits of activity (energy, joy, relaxation, sharper thinking) is more motivating than thinking about the long-term benefits (weight maintenance, living longer), say behavioral scientists.
"After 8 hours in the lab, it's hard to work out"
Rishabh T.
Fourth-year graduate student
Creighton University, Nebraska
"Staying active gives me a solid sense of satisfaction. It reduces stress and even helps me sleep better. I really enjoy sports and high-intensity interval training (HIIT) so I try to do that when I can. It's also good to take a few days off to regain motivation and muscle repair. The challenge is making time for workouts. After working 9–5, it's hard to find the drive to get moving."
My strategies
Take a day (or two) off
Download an app
Find a workout buddy
Bette Vargas
"Brief, intense workouts, like HIIT, can work well when you're short on time. Varying your workouts keeps you challenged and decreases boredom. Resting between workouts improves exercise performance, prevents overtraining (overuse of a muscle can cause repetitive strain injury), and allows muscles to be replenished and tissue repair to occur."
My ultimate plan to fit in fitness
Here's what works for me:
Take a day (or two) off "Taking a couple days to rest is very important for me to help my body repair. It can also feel rewarding, making me more motivated to start up again."
Download an app "My favorite is Freeletics, which provides new personalized workouts each week that you can do anytime, anywhere."
Find a workout buddy "I'd like to find someone who shares similar interests—HIIT, volleyball, or basketball."
So here's how I'll get moving:
I plan to join a Mixed Martial Arts (MMA) gym. Hopefully I'll make a few friends there who I can work out with. I'll continue to use Freeletics when I can't make it to the gym.
I'll get my HIIT workouts in Mondays and Thursdays at the end of the day, since that's when I have the most time.
Every Friday I plan to play a sport—switching things up will keep exercise interesting. Volleyball and squash are my favorites.
I'll take Saturdays and Sundays as my rest period so my body can repair for the new week.
If I know I won't be able to get in activity one day, I'll use the treadmill in my apartment complex to avoid staying completely idle, or take a walk outside.
"Using Freeletics adapts to my schedule as well as motivates me, since I can increase the intensity and other users can cheer you on. Also, participating in sports and joining a new gym will help me meet new people (more motivators) and get more comfortable with the new environment."
ALERT! People who use fitness apps are more likely to exercise during their free time than those who don't use apps, according to a 2015 study published in the Journal of Medical Internet Research.
"My drive to be active changes with the seasons"
José M.
PhD student
Boston University
"Every time I go to the gym, I gain personal satisfaction that I don't routinely get at work or home. I feel amazing afterward. But it's not uncommon that I get caught up at the lab and don't work out. I also find that during certain times of the year, like the wintertime, I might not have the drive to exercise."
My strategies
Make a weekly schedule
Set incremental goals
Make it convenient
Bette Vargas
"Increasing goals little by little builds a sense of accomplishment and makes them easier to attain. Allow flexibility in your program so if you can't make a workout or are tired, you can make that your rest day. If you know your routine may suffer due to colder weather, begin thinking about a gym membership."
My goal-setting guide
Here's what works for me:
Set a weekly schedule "Planning my days ensures I give myself the right amount of time for workouts, and the rest of my schedule falls into place."
Set incremental goals "Instead of trying to do too much at a time, I'll add on little by little as I reach more intense workouts."
Make it convenient "I take my clothes with me to work and change there or at the gym. If I have to go home beforehand, I convince myself not to sit down—just get my clothes and go."
So here's how I'll get moving:
I plan to go to the gym three times a week; Mondays and Wednesdays I have time in the evening, and on Saturdays I have the late morning free.
I have two fitness buddies, and when one of us isn't really feeling it, the other two can offer words of encouragement. I plan to continue to exercise with them this semester.
The fresh air and nature in Boston is a great motivator to jog and bike out in the city, which I'd like to do in my spare time. And in the winter, I'll take it inside.
"This plan seems ideal because it complements my busy work schedule perfectly, and I'm giving myself plenty of time to go to the gym and not be rushed. Setting up specific goals ensures a great, strenuous workout, but at the same time, are achievable and doable. Also, taking baby steps to increase to the tougher routines is key."
ALERT! Set realistic goals, but don't forget to anticipate possible obstacles and how you can work around them. The clearer you can be, the easier it will be to get there.
---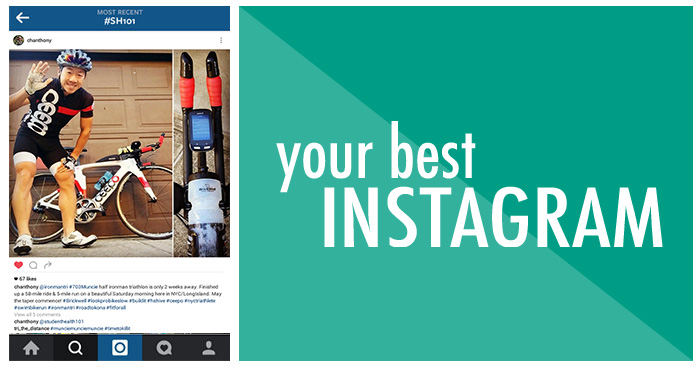 "I plan to stay fit this fall semester by training for the an event in Hawaii. Lots of swimming, cycling and running will be involved as I prepare for the race!"
—Anthony Chan, graduate student, St. John's University, New York
Follow us on Instagram and don't forget to use the hashtag #fitforfall
Article sources
Bette Vargas, certified personal trainer, University of California, San Francisco.
Crozier, A. J., Gierc, M. S., Locke, S. R., & Brawley, L. R. (2015). Physical activity in the transition to university: The role of past behavior and concurrent self-regulatory efficacy. Journal of American College Health, 63(6), 384–385.
Godman, H. (2014, April 9). Regular exercise changes the brain to improve memory, thinking skills. Harvard Health Publications. Retrieved from
https://www.health.harvard.edu/blog/regular-exercise-changes-brain-improve-memory-thinking-skills-201404097110
Hultquist, C. N., Duckham, R., Stinson, C., & Thompson, D. L. (2009). College physical activity is related to mid-life activity levels in women. Journal of Exercise Physiology, 12(4), 1–7. Retrieved from https://www.asep.org/asep/asep/JEPonlineAugust2009Hultquist.doc
Kemmler, W. (2016, January). Impact of exercise changes on body composition during the college years: A five-year randomized controlled study. BMC Public Health, Retrieved from https://bmcpublichealth.biomedcentral.com/articles/10.1186/s12889-016-2692-y
Kwan M. Y., Cairney J., Faulkner G. E., & Pullenayegum, E. E. (2012). Physical activity and other health-risk behaviors during the transition into early adulthood: A longitudinal cohort study. American Journal of Preventive Medicine, 42(1), 14–20.
Litman, L., Rosen, Z., Spierer, D., Weinberger-Litman, S., et al. (2015, August 14). Mobile exercise apps and increased leisure time exercise activity: A moderated mediation analysis of the role of self-efficacy and barriers. Journal of Medical Internet Research, 17(8). Retrieved from https://www.jmir.org/2015/8/e195/.
Student Health 101 survey, June 2016.